At first thought, "dinner in the tube" probably makes you want to spin on your heels and run, thinking about a terrible club sandwich munched between two stations. But if instead we told you that the super-talented and friendly team behind Basement Galley has taken residence in the London tube to hold a Parisian brasserie style pop-up?
This bold idea takes place in an offbeat locale, a 1967 train car, last used in 2010. The only goal of the trip is to taste a Scandi-inspired menu with four courses, washed down by a cocktail. Courses include interesting concoctions such as sweet smoked mascarpone ice cream, sugared rye & almond crumble, Pimm's gel, fresh raspberries, lemon balm and caramelised grapefruit, roasted hazelnuts, camomile syrup, cured salmon, dill. Yes, yes, you are really in the tube but here, there is no rush hour as places are limited to 30 people.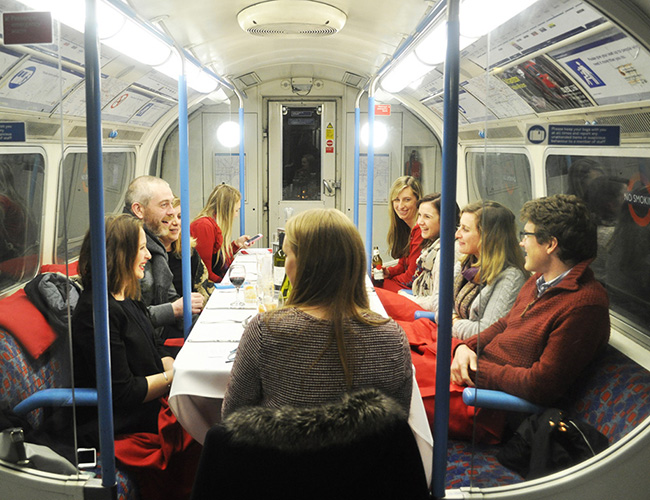 What is a Supper Club ? An alternative to classic restaurants... play the public transportation game and wait-and-see who you will be dining with (100% fun guaranteed by the chef)! If you absolutely want a table for 2, by booking the VIP Booth, you can make sure you have your own booth.
Who is behind Basement Galley ? At the beginning, two roommates, Tom Fothergill and chef Alex Cooper, formerly of Sketch in Mayfair, began to organize dinners in their flat in Brixton...they quickly had such a following that they started the concept in 2013.
And does it move ? The ambiance is lively, but the train car indeed stays still. You can't have everything, but we guarantee that you will never look at the tube the same way again after this experience !
Tickets from £45
Thursday, Friday and Saturday from 7pm to 10pm (doors open at 6.30pm)
Reservations at: designmynight.com
By Camille Rebourseaux