In Barney Goff's flagship, a homage to his departed father and his childhood vacations in the South of France, you find the magic formula of creative melting pots of today:  in the heart of Shoreditch, his concept store opened in 2017 also houses a cafe and a patisserie.
For the decor, the Frenchie Aurore Baulier (Atelier Baulier) has transformed the space, a mix of the 50s and Wes Anderson style, in shades of green, inspired by the Riviera.  We love the terrazzo of the counter and the daffodil yellow touches that give a Mediterranean feel to this London terrace.
The key to success:  in the center of the space is the open kitchen and its lovely pastries.  Fancy a chocolate-banana pain au chocolat or a croissant with caramelized peanuts (£2.50- 3.50)?  Difficult to pick between the classic or the creations from head pastry chef Jordan Duclauten, who started at Hotel Bulgari by Alain Ducasse and next to the star Jean-Paul Hévin- nothing more than that!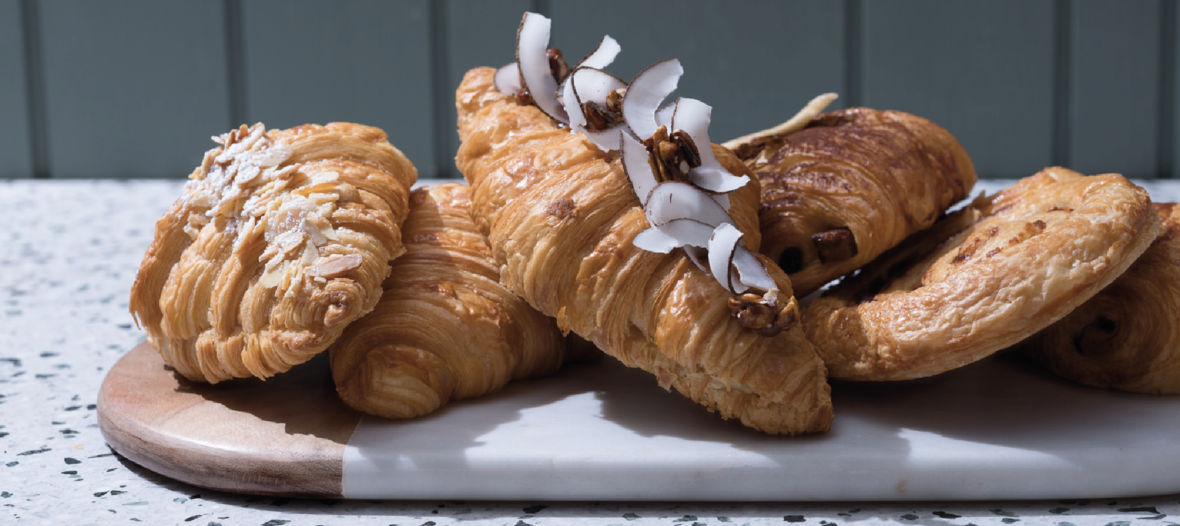 For breakfast, we love the scrambled eggs with truffle and avocado toast, while sipping an artisanal coffee sourced exclusively by Origin for Sans Pere or one of the house teas (Earl Grey or Sencha), in sublime apothecary packaging.  The teacups play into the rainbow of colours as well, with a pretty pastel green matcha and a Barbie pink beetroot latte, totally Instagrammable.
For homeware shopping, we fall for a pretty book to put on the coffee table or delicate plates illustrated by ceramicist Ella Hookway (£50).  So chic:  hipster ambiance obliged, here we turn up on a fixie- and leave your bike with the bike valet!  And if it comes from Tokyo Bike, across the street, it's even better.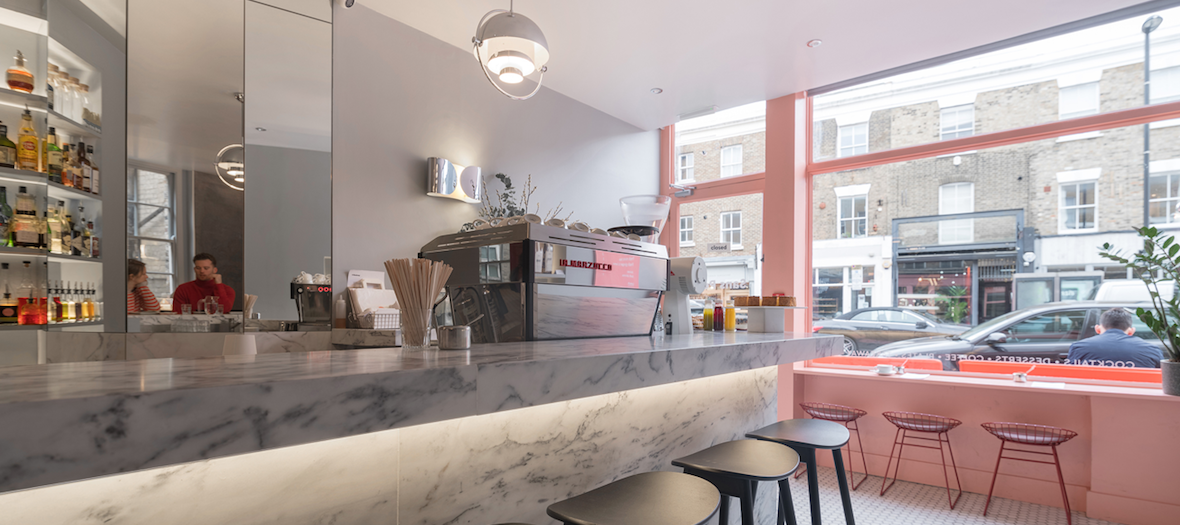 In the evening, we head a bit further north, to Broadway Market, where a second location has turned up a few months later.  Behind the peachy rose facade, have brunch in a sunny window seat with brioche bagel stuffed with egg, ham and gruyere (£8) or just stop by for a sophisticated Dear Asia cocktail (£9).  The mega good plan:  a quick and yummy dinner- mac & cheese and a glass of wine for £10 (Wednesday to Sunday, 5pm to 7pm).
In the works:  a West London version is set to open soon, with another in the works for Marylebone!
Sans Pere Shoreditch: Monday to Friday 7.30am to 6pm, Saturday and Sunday 9am to 6pm
Sans Pere Broadway Market: Monday and Tuesday 8am to 4pm, Wednesday to Friday 8am to 11pm, Saturday 9am to 11pm, Sunday 10am to 10pm