London foodies have been salivating with impatience over the opening of the hispanic cantine with the bubbling chef Nieves Barragan, originally from Bilbao, and her associate José Etura, both formerly of Barrafina- the ultimate reference in terms of Iberian cuisine with a London touch.
On the program: a roadtrip to the four corners of the country, from Andalusian tapas to asadors of Castille, passing by the seafood of Galice. All of this in the heart of Mayfair!
The Counter: For A Spanish Supper
On the main level, a tapas bar like those by the sea, where the menu changes each day according to the daily catch. Don't miss: croquetas with crevettes (£6), the Bilbania mussles (£8.50), the Basque- style salt cod tortilla (£7.50), or the duck breast with tarragon and ajo blanco (£14.50). To sweeten it all, we are tempted by the rhubarb and mascarpone tartelette (£8) or the addictive turrón, a type of Spanish nougat (£6.50).
Amazing: the blue azulejos tiles that joyfully line the kitchen walls, instant holiday vibes guaranteed.
We love: watching the staff expertly write up the orders, directly on the blackboard of the bar!
Too crowded? No worries, head to the bar to munch on a plate of delicious Cinco Jotas ham (£22.30), a few Andalusian olives (£3.50) and gorgeous sardines (£6.50) while sipping a Spanish gin (£9- 14) or vermouth (£5-8). To play like a local, we strongly recommend tossing your paper napkins on the floor!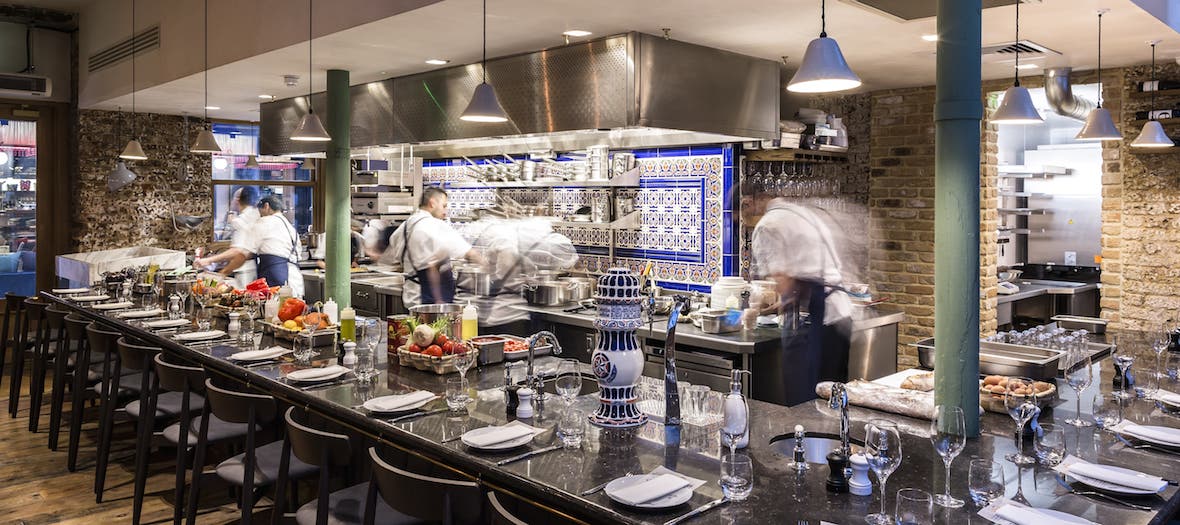 Counter and bar: no reservations, arrive early or late- 4 people max per party
El Asador: A Carnivore's Delight
At the top of the spiral staircase hides the asador, where the traditional-slash-cool restaurant serves up dishes in copper casseroles.
Seat yourself along one of the long dinner tables for a dinner of large dimensions: after a few empanadas (£9) and blood sausage from Burgos to set you on a good start, it's a banquet feast with the Segovie cochon de lait that you can even order whole, to share (£38- 190), accompanied by patatas fritas with cheese and rosemary (£6). For a light finish to the meal, we recommend the blood orange sorbet (£3.50).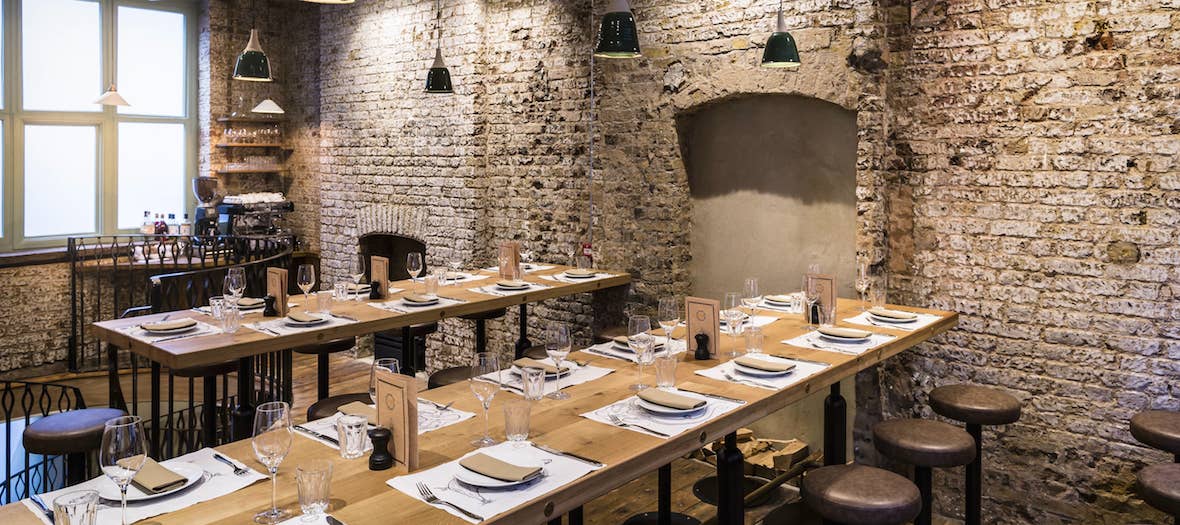 Asador: reservations recommended, book far in advance
Open Tuesday to Saturday 12.30pm to 2.30pm and 5.30pm to 10.30pm, Sunday 1pm- 6pm
Photo credit: Chris Terry