At the Connaught, we already know the famous multi-starred restaurant from chef Hélène Darroze.  But also at the London palace in Mayfair, the star chef Jean-Georges Vongerichten has taken over a second offshoot in July: Jean Georges at Connaught.
After months of renovations, the restaurant has an ultra-light contemporary space with a sublime canopy designed by Jean-Michel Othoniel, where neighbours and beautiful people hang out from the evening until the morning.  (For example, it's the headquarters of jewellry designer Jessica McCormack, whose showroom is just across the street.)
But the unmissable experience is the afternoon tea!  Taking over the pastry chef duties, we find the Frenchie Nicolas Rouzand, who has been in the kitchens of the Lanesborough and the Bristol, nothing more that that!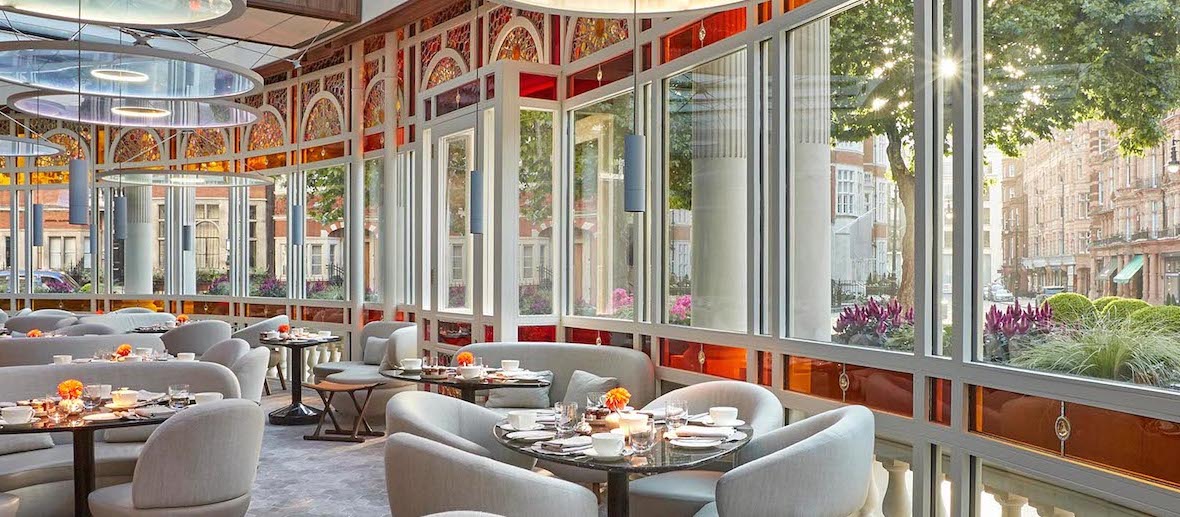 Among his creations that change with the seasons, we happily savour the:  salmon sandwiches pimped with chipotle; classic scones with clotted cream, strawberry jam and housemade lemon curd; matcha-raspberry eclair; a "rocher" to die for; a lemon orange flower mousse and other sweet delacacies, all washed down with a glass of Laurent-Perrier champagne or a green tea with pearls of jasmin.
The totally playful detail:  it's the only afternoon tea in London to serve a chocolate fondue, in which you dip slivers of pear (for strawberries, come back in summer time!)
We love: the charming illustrations by cult artist Jean Jullien, spread throughout the menus and on the uber-chic takeaway pizza box- with truffles, please!
Tea served everyday from 2.30pm- 4.30pm
Monday to Friday, £75 per person, Saturday and Sunday, £80 per person