After having tested his idea with a crepe stand at the market in Waterloo for two years, Antoine Detrie set his sites on Hammersmith in 2012.  His first creperie was a huge success, and now he's setting up a second spot in Clapham !
A large and luminous space with modern decor mixed with a vintage Breton touch was designed by Paul Croft Studio.  Red checked tableclothes, serigraphed directly on the light wood tables, plates hanging on the walls, vintage posters and cheesy French soundtrack, this looks nothing like a dusty old grandmother's creperie.
The galettes are made in the traditional way with buckwheat flour, making them naturally gluten free, and are prepared to order by the young team behind the counter in loads of different flavour options. And, of course, you wash this all down with cider from the Kerisac farm in southern Brittany.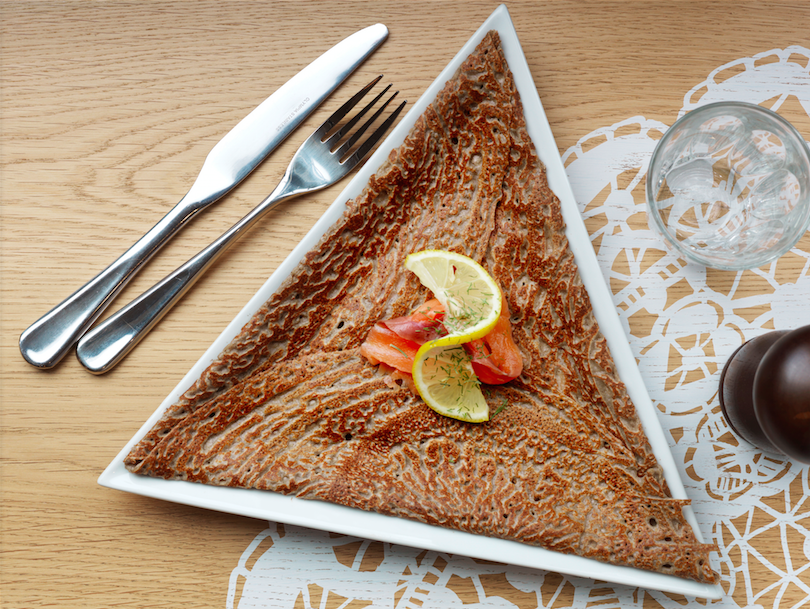 Who do you go with ? More for a family meal out than for a date ! It's the ideal spot for a group of kiddos, munching on Nutella filled crepes without anyone scolding them.  Children's menu (£9.95), high chairs, games corner in the basement and crayons for scribbling, kid's are king here.
We love : being able to come by at any time of day to grab an ice cream cone or a crepe to take away.
Open everyday from 8am to 11pm
Breakfast from 8am to 11pm, lunch from 11m to 2pm