The coolest family duo in London has done it again!  After their talked about three addresses (The Palomar, The Barbary and their pretty little cafe Jacob The Angel), Zoё and Layo Paskin invest in The Blue Posts, the mythic pub in the heart of Chinatown.
Tour by the owner:  First stop on the main level, for a seriously upgraded pub drink: artisanal beers on tap, such as the pale ale from Hackney Brewery (£5.80) or a glass of French rose to celebrate summer (£6.25), accompanied by bar snacks that have nothing to do with a sad bag of crisps. Our faves? The classic pork cracklings, pimped with tarama and paprika (£4.50) and the fresh Kalamata olives to munch on (£3).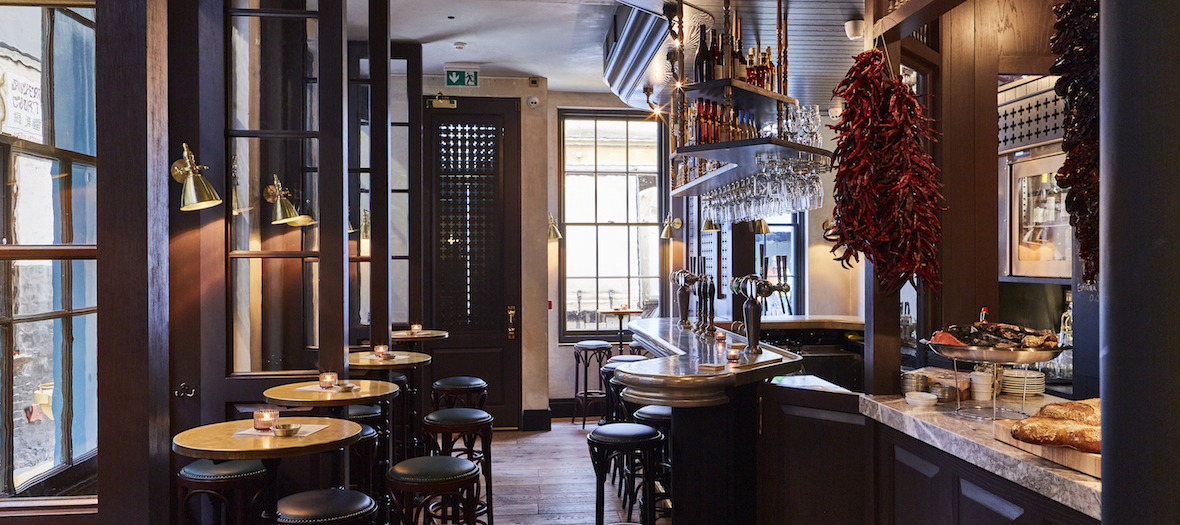 For a final drink, it's upstairs! Head to the Mulwray, with its bookshelf well stocked with bottles and its sophisticated cocktails.  We lightly sip a Mexican Fizz, with tequila and refreshing citrus (£11.50) or we try a confederate concoction like the Lucky in Kentucky (£12).
But the final surprise is hidden in the basement.  Head down a flight of stairs to penetrate the secret of the building: Evelyn's Table, in homage to the heroine of the film by Roman Polanski.   A counter the length of the open kitchen, with only 15 seats for a romantic dinner in subdued lighting.
Perched on one of the high stools, let yourself be guided along the Mediterranean menu from chef Luke Robinson, as he cooks right in front of you.  Start by choosing one of the fish of the day, directly from the platter, straight from Cornouailles, then complete it with lovely sides dishes to share.
We love:  the fish soup (£22), the dory served two ways, grilled and with orange flavoured vinegar and carrots (£9), the beef tartare (£12) or the chic tagliatelle with black truffle butter and parmesan (£13).
Finally, keep a little spot for dessert, as the warm apple tarte tatin and vanilla ice cream that you've been eyeing since the beginning is definitely worth it (£7)!
Evelyn's Table: Monday to Saturday 5pm to 11pm
The Mulwray: Tuesday and Wednesday 5pm to 11pm, Thursday 5pm to 11.30pm, Friday and Saturday 5pm to midnight
The Blue Posts: Monday to Wednesday 5pm to 11pm, Thursday 4pm to 11.30pm, Friday and Saturday 5pm to midnight, Sunday 3pm to 9pm