This is the spring good news, the « feel-good » news coming from East London. The favorite restaurant of the fashionistas, the hipsters, the gourmets and the « raw food » addicts - CEVICHE - is now opening on Old Street.  A promise of a sunny culinary journey full of good vibes.
The little brother of the first Ceviche Soho is playing the same hype music, serving cult cocktails and raw fishes and playing ultra trendy folklo sounds (Tigers Milk records). The aficionados are going to love it! On the menu you'll find the famous Don Ceviche, the delicious quinoa salad (£18 for 3 dishes). Good to know: the addictive desserts like the chocolate tart and the quinoa pudding are also on the menu!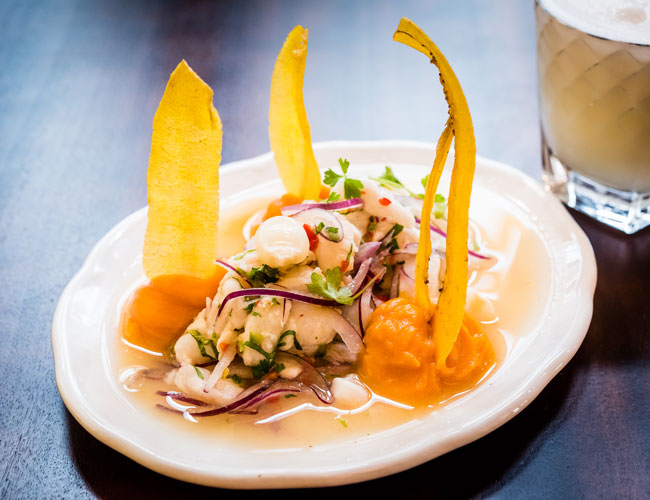 You definitely have to order one of the disorienting potions like the famous « Pasion de Ceviche », or the detonating philtre made with Pisco, ginger, honey and apricot liquor (£8) or the « Lucuma Tiramisu » a crazy cocktail with eponymous flavors : coffee infused pisco + amaretto + mascarpone (£8,5).
But who's behind all this ? Martin Morales is the successful man behind those crazy restaurants! This handsome Peruvian has already reinvented the Peruvian kitchen style restaurant thanks to his grandmother old school recipes (like the ceviche, a sort of fish carpaccio mixed with lime, garlic, coriander , ginger…). With his two super famous cantines (Ceviche and Andina), his cook book which is already a best-seller, his sound collection (Tigers Milk records) and the TV shows, Martin Morales has become one of the most trendy chefs in London.
Open Monday to Friday from 12pm to 12am. Saturday and Sunday from 11am to 12am.