A Londoner since 2010, we all know her for her super-popular culinary blog (eatwithmeshrimoyee.com) that brought Calcutta cuisine into the limelight, and for her awesome pop-ups that followed. At just 27 years old, the pretty Shrim Chakraborty has taken a leap and opened her first place in the heart of Fitzrovia, inspired by her hometown.
Behind the light blue shutters of the menu hides authentic Bengali cuisine, savoury and generous, a mix of homestyle dishes and Calcutta street food. Why? Because there, you often go for a drink in the street, on the way to a dinner! Our favourites to munch on: melty slices of fried aubergine, to dunk in mustard sauce (£3.50). Before attacking the Kankrar Jhal (whole crab in curry, £16) with both hands, with a luchi (fluffy pancake) to soak up the sauce (£2.50), while sipping on an artisanal beer or Indian cola.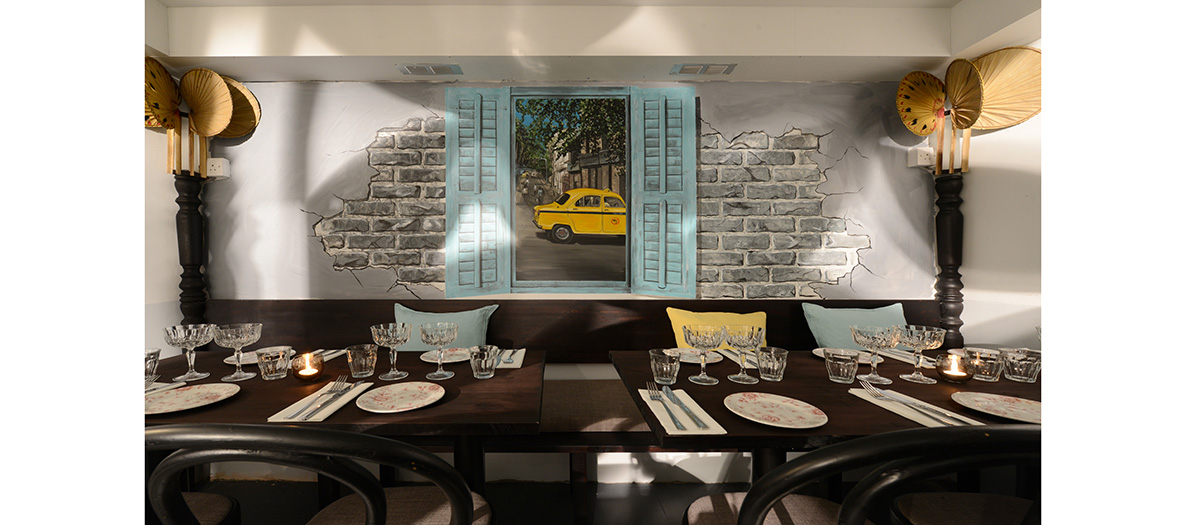 We love: the little decor touches, straight from Calcutta, from the somber wood furnishings to the vintage fans, passing by the kitsch but warm trompe l'oeil painting of the lower level that plunges you into the ambiance of the place.
Exotic lunch break: we devour one of the amazing kati rolls, a stuffed, rolled omelette sandwich, a typical takeaway dish.  The London version is gigantic, with a salad and a tea for a mini price (£8.50).
The spot for a bit of people-watching: one of the two tables on the mini terrace.
Open Monday to Friday, 12pm to 3pm, 5.30pm to 11pm, Saturday 12pm to 11pm, Sunday and holidays 12pm to 5pm