Bubbly and crunchy, the new food truck, lovingly baptised Johnny by its creators, is not afraid of breaking conventions by pairing delicate champagne bubbles with New York style hot dogs in the street.
If, at first, it seems like these two opposites would never be found at the same meal, co-founder Sandia Chang, a New Yorker, obviously, wants to prove the opposite. The truck, in London streets this summer with the slogan "hot dogs are always better with champagne," is difficult to miss with its (Dijon) mustard color, an homage to its Frenchie roots.
What to try? Opt for a classic like the New Yorker (£7) with a base of grilled sauerkraut and caramelized onions, or try a more daring option like the Trishna (£7) with mango chutney, spicey mint and coriander sauce. The menu has 16 original recipes (£6- £8.50) and a glass of bubby starts at £6.
Who is behind this? The duo Sandia Chang and James Knappet, a gourmet couple also behind the starred restaurant, The Kitchen Table. Sandia, sommelier, heart and mind of the truck, travels regularly to find the best products to create interesting recipes for each hot dog.
Bubbledogs does not stop at Charlotte Street with Johnny, and has already signed up for a good number of events. So keep your eye on this 1976 vintage Peugeot or do yourself a favour and book the truck for a private event. Bubbledogs is also a part of the Deliveroo delivery service, but bubbly cannot be delivered so it's less fun.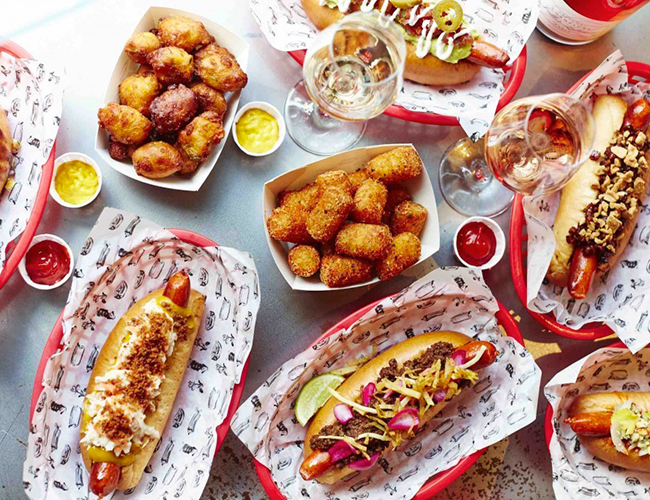 Open Monday to Thursday 12pm to 4pm, 5.30pm to 11pm, Friday and Saturday 11.30am to 11pm
Don't want to leave your flat? Deliveroo will do it for you: deliveroo.co.uk.